Cyber Assassinz Team Shirt Photo's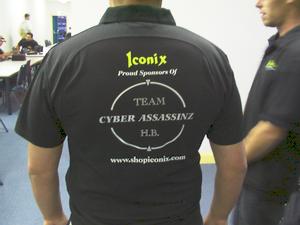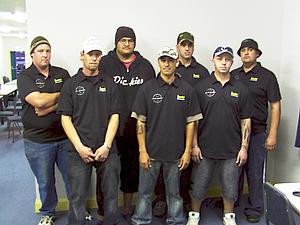 5 May 2007 Force Of The Breaker Sneak-Peak Tournament
 Winner: Sarg Waikari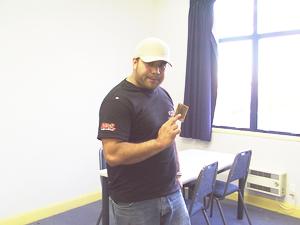 These pics below are from Hawke's Bay's YuGiOh Regional Qualifier for 25th April 2007
47 Players on the Day.
Many thanks to all those who attended.
This first shot was taken during the Registration process;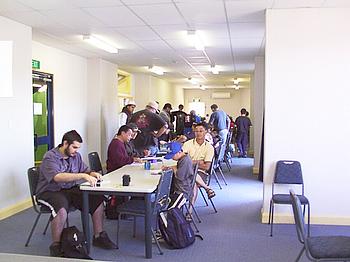 Intense duelling in the early rounds;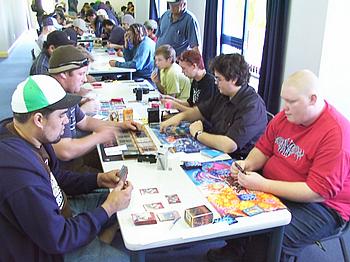 Keith, Luke, Reco and Campbell taking a turn on the "top table";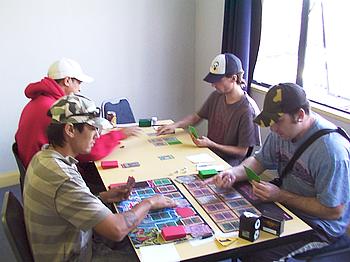 The pressure's on at the next table...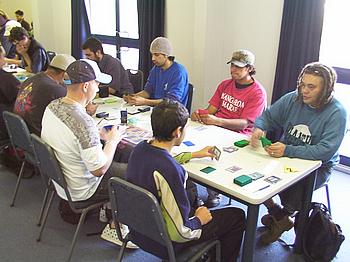 and the next....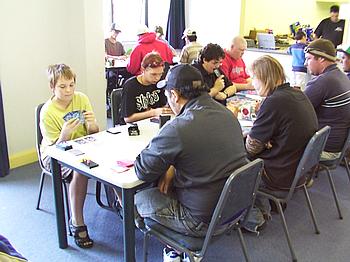 and the next....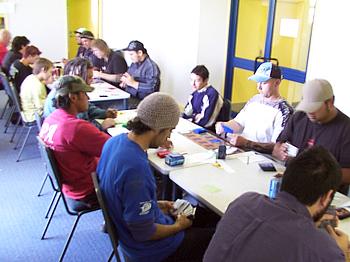 and - you get the picture - heaps of tables!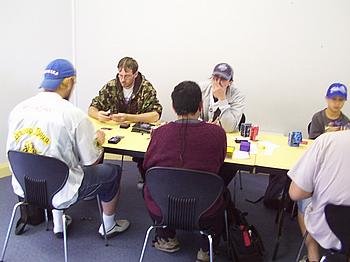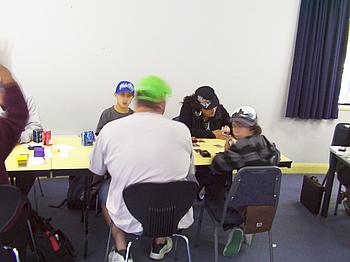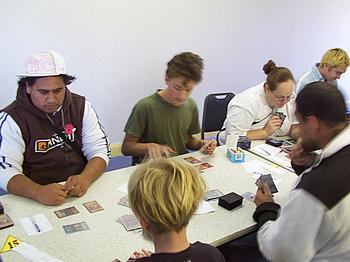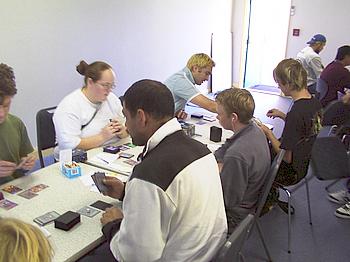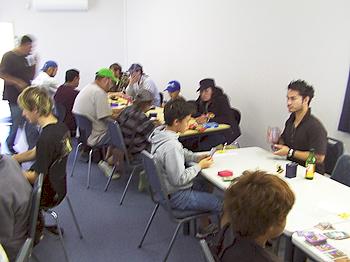 Top Table at the end of Round 6...
Locals Broughton (left) and Karl (right) at the back...
Front two players are from Palmerston North, (Scott left, Paul right) -
Special Thanks to all those out-of-towners who made a special trip to attend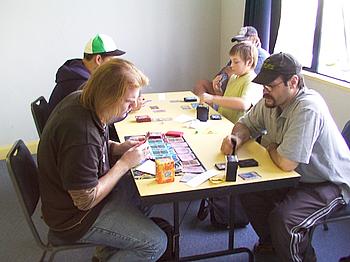 Tu in full flight as Judge on the day...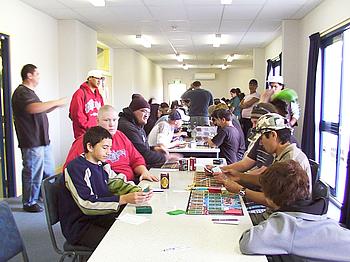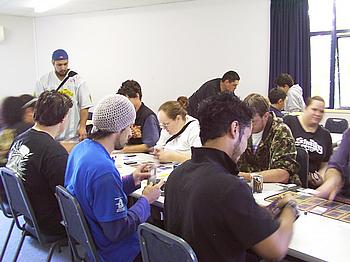 The "Engine Room", keeping the Tourney ticking along;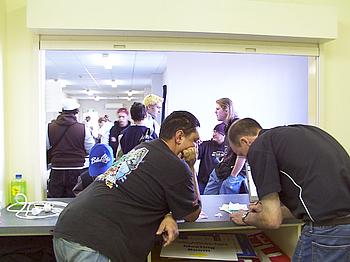 Team "Legion" (L-R, Back to Front); Luke, Brad, Ben and Karl....
Karl wearing his prize (EOJ Shirt) for Best Young Player of the Day - He also earned an invitation to the YuGiOh National Champs in June.  Ben and Brad got invites today also.  Way to go, guys!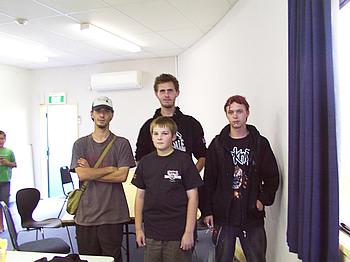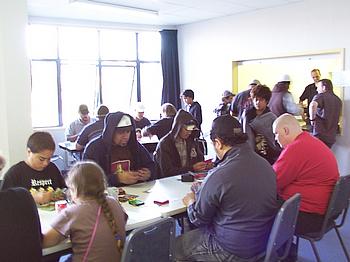 Things are getting really serious now, Top 8 Play-offs in progress;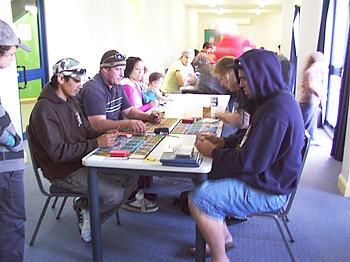 And the Winner Is!   Scott Hutton from Palmerston North! (on the right).
CONGRATULATIONS!
Second place to Reco, representing Cyber-AssassiNZ Hawke's Bay!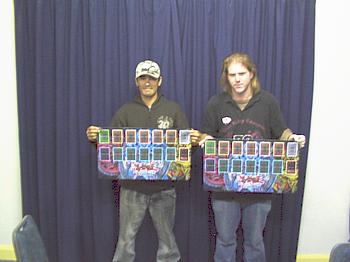 Scott seems to be the man to beat, having just taken out
the Armaggedon Wellington Tournament 21-22 April.
You gotta be good to beat our guys!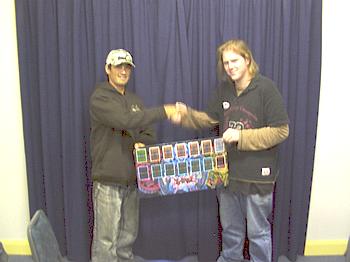 Tu Haggerty from Wairoa on the left, our Judge on the day,
Big Thanks for sacrificing your day of duelling for this honour!
Stuart Packer of Iconix on the right,
Proud to host a second 2007 Regional Qualifier for Hawke's Bay -
Many Thanks once again to all who entered, hope you enjoyed the day!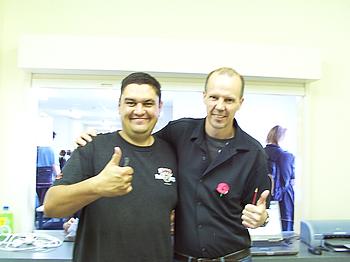 Here are some pics from Sunday's New Hobby League Venue in Hastings.
48 Players in Total, maybe the biggest Hobby League in NZ?
Thanks Guys for all the support, I trust you all had fun.
Kind Regards Stuart & Angela..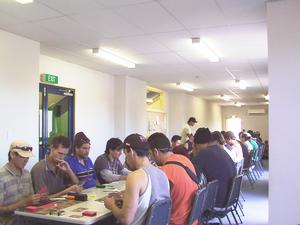 Tables, People, Tables and even more People..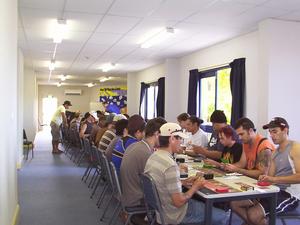 So many Players some had to hit the floor, sorry ;)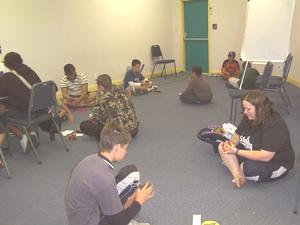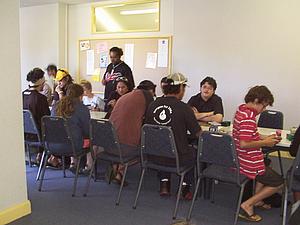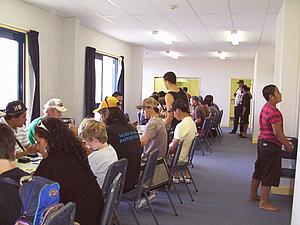 Adam vs Sarg, Times running out.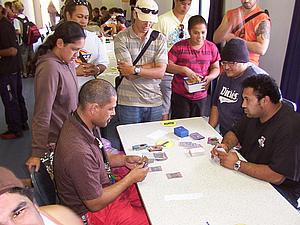 Reco Gray with his prize for winning March's Hobby League, Congrats..