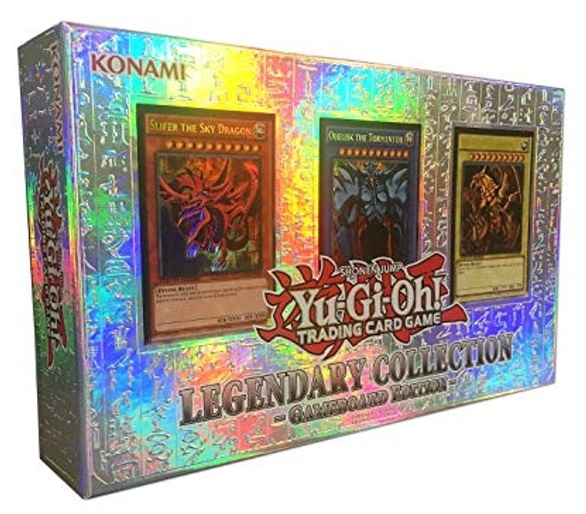 YuGiOh Legendary Collection 1 Reprint
Producers Info:
Treasures of the Pharaoh – from the dawn of Dueling!

The Legendary Collection: Gameboard Edition includes 6 of the most popular booster packs from the earliest days of the game, including the very first set: Legend of Blue-Eyes White Dragon.

In addition, this set also includes special variant cards with some of the most famous monsters from the original TV series, including Blue-Eyes White Dragon, Dark Magician, and Red-Eyes B. Dragon, as well as three of the most popular, most requested, and most sought-after monsters ever created: The original Egyptian God Card Promos!

Along with a sturdy collectible box starring the Egyptian God Cards, the Legendary Collection: Gameboard Edition also comes with a double-sided Game Board featuring all three Egyptian God Card monsters and some of the most beloved characters from the classic era.
The Legendary Collection: Gameboard Edition contains:
1 pack of Legend of Blue-Eyes White Dragon
1 pack of Metal Raiders
1 pack of Spell Ruler
1 pack of Pharaoh's Servant
1 pack of Dark Crisis
1 pack of Invasion of Chaos
1 Ultra Rare Obelisk the Tormentor card
1 Ultra Rare Slifer the Sky Dragon card
1 Ultra Rare The Winged Dragon of Ra card
1 Ultra Rare Blue-Eyes White Dragon card
1 Ultra Rare Dark Magician card
1 Ultra Rare Red-Eyes B. Dragon card
1 double-sided Game Board
---
Suggested Products
---
Recently Viewed